Would you switch to a big 5.5" phablet like the OnePlus One, if it offers you flagship specs at half price?
99+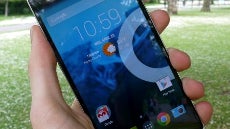 The
OnePlus One announcement
must have put the big names in the mobile industry in a jiffy to respond, as it's essentially a $300 phone that carries the specs of a $600 handset from a major manufacturer, and then some. It's still a huge 5.5" phone, though, which won't be to the taste of everybody, so we are curious to know if you would consider such a large gear, if it has the value-for-money ratio of the
OnePlus One
. The phone is about the size of the
Note 3
, but more narrow, and is larger than the
Galaxy S5
,
HTC One (M8)
, or the
Xperia Z2
. Granted, its dimensions are far from the 6" monstrosities like the
G Pro 2
, but when it comes to one-handed operation, the sizable 2.99" (75.9mm) width still makes it impossible to reach the upper left or right quadrant of the screen with your thumb only.
On the other hand, you'll be sacrificing pocket and palm comfort, but getting a 1080p screen, Snapdragon 801, 3 GB of RAM, stereo speakers, and a large battery, all for the price of $299 without any carrier subsidies. When we add the lean, mean
Cyanogen OS
that will be running on the phone, quick updates to the latest Android version are all but guaranteed. Thus, if size is of concern to you in terms of portability and pocket comfort, you might still be swayed by the amazing value-for-money proposition that comes with the OnePlus One. What do you think, can you stomach the phone's dimensions at this breakthrough $349 price point for the 64 GB version? Check it in the poll below, and sound off in the comments.