OnePlus One's CyanogenMod 11S OS revealed in leaked images
9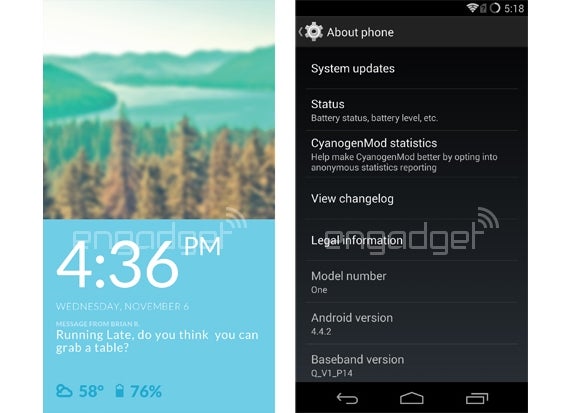 We already knew that the upcoming
OnePlus One
smartphone would be launched running a custom version of CyanogenMod OS. It turns out that this is called CyanogenMod 11S, and it looks quite different from the
CyanogenMod 11
that's been available since November last year.
Engadget today received two screenshots of the OnePlus One's OS (see above), thus confirming that this is based on Android 4.4.2 KitKat. The image on the left shows the lock screen, which displays weather information, messages, and battery status, among other things. The screen looks fresh and quite elegant. Unfortunately, that's all that we can see from CyanogenMod 11S at the moment.
As we told you last week,
OnePlus believes
that its One may be better than HTC's newly-launched One M8 - not just because of its features, but also because it will cost no more than $400 unlocked (while an unlocked HTC One M8 costs $600, or even more).
The OnePlus One will be officially revealed on April 23. It will come with a 5.5-inch 1080p display, a 13MP rear camera from Sony, a quad-core Qualcomm Snapdragon 801 processor, and a 3,100 mAh battery (with some special technology to make it last longer).
source:
Engadget