Would you sacrifice Quad HD resolution on flagships for better battery life? (poll results)
25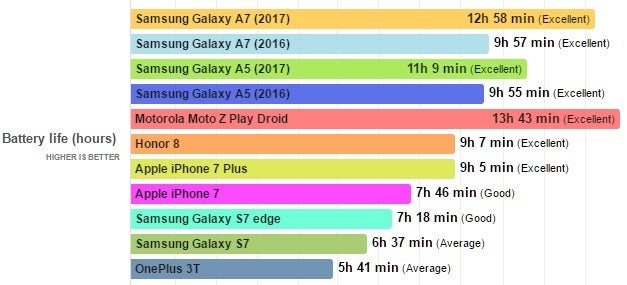 We asked you last week how important are those high pixel densities for you, and whether do you think it is worth sacrificing roughly 30% of your potential battery life just to have a Quad HD or higher resolution display with 500+ ppi pixel density. Well, it turns out that most of our 4213 respondents would be perfectly fine with a 1080p display, provided that this resolution would bring improved battery endurance. Out of the 23% who said they are bent on Quad HD or higher resolutions for flagships, a lot need the higher resolution for enjoying VR better on their phones, as exemplified in the comments section. Needless to say, if we could have both, all these points become moot, so let's wait and see how the new flagships with 10nm chipsets will fare in battery life this year.
It's a sad fact of life, but flagship phones have
much worse battery endurance
than their midrange counterparts with a similar battery size, and the bright Quad HD resolution displays they sport seem to be the culprit. The marriage of a decent battery capacity, and a 1080p display seem to be the winning tradeoff in battery endurance and pixel density these days (well, save for the
OnePlus 3T
), since the Quad HD flagships are all clustered in the 6-9 hours range of screen-on time in our proprietary script. That goes for the new
LG G6
, for last year's
Galaxy S7
and
S7 edge
, and for basically every Quad HD handset whose battery hovers in the 3000 mAh - 3500 mAh range, and they are the majority.
Samsung, for instance, being both the producer and the assembler of the screens, chipsets and memory of its new A-series, has managed to optimize them better in terms of power consumption than other brands that don't make everything in-house, so they
clocked 11-13 hours of screen-on time
in our test with those battery capacities. Even when vertical parts integration is not the case, 1080p phones are still stealing the battery show. Take the
Honor 8
, for instance - it scores nine admirable hours of screen-on time in our test, and consistently carries us through two full days with normal use, but has a "mere" 5.2" 1080p display, backed by a 3000 mAh battery. While that endurance is 30% less than the A-series, it's still 30% more than the LG G6 or the Galaxy S7 with their 2440p panels.