Would you be disappointed if Samsung or LG don't out phones with 4K displays in 2016?
75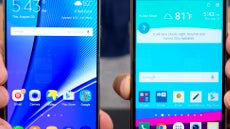 The publication claimed that both Samsung and LG did a cost-benefit analysis on using such high-res screen in their 2016 crop, but deemed the advantages less than the drawbacks, and decided to focus on improving the current Quad HD resolution mark they are at in terms of power consumption and outdoor visibility. Alternatively, Samsung's or LG's 4K phone screens might simply not be up to par in terms of power draw and brightness to enter the mainstream yet, or maybe the companies just think that chasing 4K on a phone is a dead-end.
Sony, however, proved that outfitting the 5.5-inch
Xperia Z5 Premium
with a 4K display doesn't come with too much compromises in other areas, and it might be the sole manufacturer with such a handset on the market for the foreseeable future. Its approach is to render in 4K only where it counts, like when watching a high-res video or pictures, so as to avoid unnecessary strain on the graphics subsystem and battery life of the device.
That is why, given that we already have the Z5 Premium on the shelves, we wanted to ask you whether you would be disappointed if mobile juggernauts like Samsung and LG don't come out swinging with a 4K display on a phone of their own next year. Take your pick, and tells us why in the comments.