Would the 6.5-inch Apple iPhone XS Max exist if Steve Jobs was still at the company's helm?
46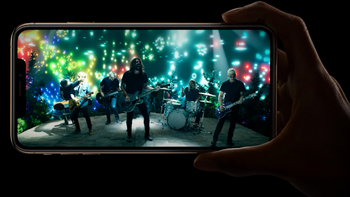 Yesterday, Apple introduced the largest screen to ever adorn an iPhone, the 6.5-inch OLED panel that you will find on the
iPhone XS Max
. That is a full three-inches larger than the display found on the original
iPhone
. While consumers' desires have changed since Apple CEO Steve Jobs
put a charge into the smartphone industry in January 2007
, would a 6.5-inch iPhone been produced if Jobs had not succumbed to pancreatic cancer?
Besides thumb coverage, Jobs also felt strongly that no one was interested in buying a big phone. Back in 2010, Apple's co-founder said that there were no large screen iPhone models because "no one's going to buy that." But even back then, several Android models, including the popular
Motorola DROID X
and its 4.3-inch display, carried larger screens than the one on the iPhone.
Considering Jobs' contempt for the Android OS
(he called it a "stolen product"), one thing he did not want to be accused of was copying the larger screened handsets that were running on the rival platform.
With two of its three 2018 models sporting a screen measuring in excess of 6-inches, Apple's policy toward the iPhone's screen size has certainly changed under the leadership of current CEO Tim Cook. Since Jobs passed in 2011, there is no way of knowing what might have happened had he continued to steer the company over the last seven years. Would his so-called rule of "thumb" and his feelings toward Android kept the iPhone's screen at 3.5-inches even in 2018? Or would the late Apple co-founder have conceded to change and increased the size of the iPhone display?
At this point, it is a rhetorical question. The Apple iPhone XS Max sports a massive 6.5-inch display, which ironically means that you can expect even larger-screened Android handsets to hit the market late next year.