Worker in Chinese iPhone factory committs suicide over missing prototype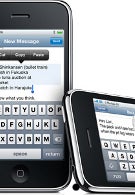 25 year old Sun Danyong, was an employee at the Foxconn Technology Group. Danyong worked at the huge plant at Shenzhen, near Hong Kong, where products for Apple are churned out. The employee's job included sending iPhone prototypes to Apple, and on July 13th, he reported that 1 of 16 prototypes of the touchscreen device was missing. According to the state-run newspaper Southern Metropolis Daily, Sun's friends said that company security guards searched his apartment, detained him and beat him. Finally, on the morning of July 16th, Danyong jumped to his death from the 12th floor of his apartment building. Apple said in a statement, "We are saddened by the tragic loss of this young employee, and we are awaiting results into the investigation of his death.". The security chief at the factory has been suspended and turned over to the police and the missing prototype was never found.
There is an extremely high amount of pressue on Foxconn workers to maintain secrecy over Apple products being manufactured at the facility. Competitors, journalists and Apple fan boys are just some of the people who try to catch a glimpse of the Apple products that Foxconn is making for the American company, which includes the iPhone.
source: SouthernMetropolisDaily(China) via
NYTimes