Woman dies while attempting to save her phone from her burning house
42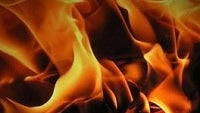 We get it, we really do, our smartphones are our connection to our lives, and we rarely go anywhere without them. Unfortunately, we must remember that these items are merely material in nature, and they are replaceable.
Regrettably, Wendy Rybolt of Bartonville, Illinois did not keep that in mind. She successfully escaped a fire that broke out at her house Tuesday morning with her daughter. Then, she made the decision to go back into the blaze to retrieve her cell phone.
Police were the first to arrive on the scene, and attempted to rescue Wendy from the fire, but the flames forced them to give up the effort. By the time fire fighters arrived, they were unable to rescue her, the smoke had overcome her.
"Material things can be replaced. You never want to go back in to retrieve anything. In this, there was heavy smoke. Carbon monoxide will get you, and you may not even know it," according to Chief Brian Fengel of the Bartonville Police Department.
Indeed, do not risk your life, and your family for these gadgets. They are replaceable, and we want you to live a long life enjoying all these new electronic toys (and reading our articles).
source:
CINewsNow.com