With YouTube Pro tossed from the Windows Phone Marketplace, SuperTube is back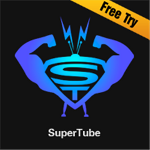 Unlike OS and Android,
Windows Phone does not offer an official YouTube client
. The closest thing to an official YouTube client for Windows was one created by HTC for its Windows Phone models and
was hacked by an Xda member to allow for installation on most Windows Phone models
. After that, a popular third party YouTube app called YouTube Pro became available in the Windows Phone Market. Originally called SuperTube, the latter was the first to offer HD and HQ videos on Windows Phone models. Not to be confused with a YouTube client, the Windows Phone YouTube app developed by Microsoft for its OS
merely re-directs users to the mobile version of the site on your phone's browser
Eventually,
YouTube Pro took over for SuperTube
although developer Fast Code kept both services up to date and offered a free and paid version of both. Now that Microsoft is removing anything that has the Google name or the name of a Google application from the Marketplace, SuperTube once again becomes the top video streaming app for those using a phone running on Microsoft's mobile OS.
Fast Code is offering it free for a limited time
in order to make up for the yanking of the YouTube Pro app. And version
2.3
of SuperTube has some new features including a Metro design so it will fit right in with the OS. Additionally, the app now has a new channels page and a channel and message live tile. The front of the channel tile will show the number of new videos while the back will display a thumbnail of the latest video. The trial version of the app no longer has restrictions on downloading or syncing videos and after signing in on the main age, you can subscribe to the service. Lastly, the new version killed off some bugs that were a nuisance for users.
Just like the official YouTube client, you can download and upload videos and do just about all of the things that iOS and Android users can do. Let's face it, ever since seeing that dog skateboard across the screen of the OG Apple iPhone in that famous commercial,
all smartphone users want to have access to YouTube videos on their phone
.
source:
WindowsPhoneMarketplace
via
WPCentral