Wise guy loses license after using two cellphones behind the wheel
23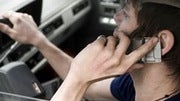 It seems like people will
never
learn that using a cellphone while driving is dangerous, and what David Secker did earlier this summer backs up this claim even further. Reportedly,
the man was caught using not one but two cellphones at the same time
– one for talking to his friend and the other to send a text message, and all that while driving at 70MPH on a road near Norwich, UK.
The police report says that the man was pulled over because it appeared as if his hands were not on the wheel. Turns out that he was using his knees to steer while conducting his "important" business on the phone. What made his case even more ridiculous is that the officers had to wait for the driver to finish his conversation before ever getting to speak with him.
Okay, it doesn't take a rocket scientist to figure out that getting distracted behind the wheel can get you a solid fine, not to mention the accident that you can get into. Sadly enough, studies show that
people still reach for their handsets while driving
despite being aware of the potential risks. Luckily, Secker did not cause any damage to anyone, himself included. The guy, however, will be asking for his buddies to be giving him a ride for the next 12 months as his license has now been suspended.
source:
BBC
via
Gizmodo