Using a cellphone while driving is dangerous, yet most of us do it anyway
25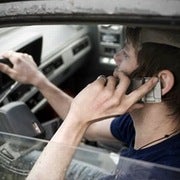 You have heard it before and you will hear it again – using a cellphone behind the wheel is pretty risky and you should avoid doing it irregardless of how urgent the situation appears to be. Nevertheless,
three out of five drivers out there use their handsets to talk or text while driving
, even though 91% of all adults are aware of the risks that doing so imposes, according to a recent survey conducted by
Harris Interactve
.
The study also shows that younger drivers are more likely to reach for their cellphone when driving, which considerably raises their chances of getting into an accident. What sounds even more disturbing is that approximately one in five drivers admits they send or read text messages while behind the wheel, which has been found to be an even greater distraction than talking on the phone itself.
The good news is that the percentage of people who use hands-free devices has increased from 60% in 2006 to 72% today. However, some other studies suggest that their usage
does not necessarily decrease the risk of crashing
, even though 77% of all drivers believe otherwise.
That being said, please, be careful out there and restrain yourself from using your cellphone while driving. Putting your safety at risk is really not worth it.
source:
Harris Interactive
via
PRNewswire