All you need to know about wireless charging on the iPhone 8, 8 Plus, and iPhone X
20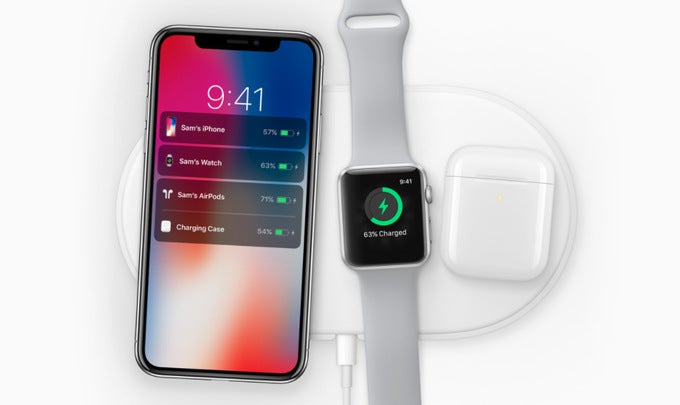 The Apple AirPower mat, coming in 2018, will charge multiple devices wirelessly
There's this guy you might have heard of, Nikola Tesla. An inventor and scientist of legendary status, he established the fundamentals of modern-day supply of electricity, including the way power gets to your home right now. He also explored the potential of wireless energy transfer, dreaming of a world where power is available to all – wirelessly and at no cost. Alas, his ambitious idea did not materialize, but the principles behind Tesla's wireless power distribution system are still in use a century later – in every smartphone that supports wireless charging, for instance.
And you can now add the
iPhone 8
,
iPhone 8 Plus
, and the
iPhone X
to the list – all of them support the Qi wireless charging standard for added convenience and style. But at the same time, wireless charging technology comes with its limitations. Allow us to walk you through all you need to know about charging your new iPhone wirelessly.
What makes wireless charging so cool?
There's a clear benefit to wirelessly charging your iPhone – it is more convenient since you don't have to deal with wires. Just place your phone on a charging pad, be it on a table beside your bed or on the desk at the office, and let technology take care of the rest. As an added bonus, going the wireless route reduces the wear on your phone's Lightning port and its Lightning cable.
Wireless charging is also available in some public spots like restaurants, cafes and airports. True, the number of locations offering the convenience is small, but it is bound to rise now that Apple has the feature on its latest phones.
Many car manufacturers are also on board with wireless chargers offered on their latest models. These include Audi, BMW, Chrysler, Ford, Genesis, Honda, Hyundai, Kia, Mercedes-Benz, Peugeot, Citroen, Toyota, Volkswagen, and Volvo. Some 2018 models by Buick, Cadillac, Chevrolet, and GMC can also charge the iPhone 8 wirelessly. Though a disclaimer is due here: some vehicles may not be able to fit an iPhone 8 Plus on their charging pad.
What are the downsides and limitations of wireless charging?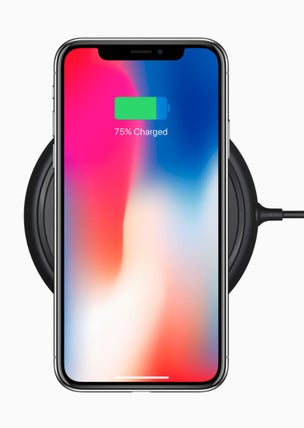 The Mophie wireless charging base works with iPhone 8, 8 Plus, and iPhone X. And it costs $60.
Unfortunately, there's quite a few that need to be mentioned. One is that a wireless charging pad will cost you extra: Belkin and Mophie have ones listed for 60$, while Apple's official AirPower mat is likely to cost even more since it is bigger and can charge multiple devices simultaneously.
Another drawback is that you're pretty much unable use to your iPhone efficiently while it is charging wirelessly. Sure, you can take a peek at an incoming text, but playing a game or watching video while it is resting on its charging pad? That would be tricky.
On top of that, iPhone cases that are too thick or contain metal elements may interfere with the charging process. Credit cards, RFID tags, and other metallic objects must not be placed between the iPhone and its charging pad. Plus, your iPhone needs to be perfectly centered on its charging pad to absorb the most power. If it slides off, like after an incoming notification causes it to vibrate and move around, the charging process may slow down or stop completely.
Also keep in mind that a wireless charging pad is not a Lightning cable replacement. It will not let you copy files from your iPhone to a computer. And you probably won't be able to power a charging pad from a computer's USB port. It will need to get its power from a wall adapter.
Is wireless charging on the iPhone 8 slow?
Right now, charging the iPhone 8 or iPhone 8 Plus wirelessly takes a bit more time than using a stock, 5-watt charger. There's a few minutes' difference. This we observed at the office using a compatible Qi-certified wireless charger.
At some point in the future, a software update will enable wireless charging at up to 7.5 watts, which would be an improvement, though it would get the iPhone nowhere near the 15 watts supported by other phones, such as the Galaxy Note 8. For now, the fastest way to charge an iPhone remains buying a USB-C to Lightning cable and pairing it with a USB-C wall charger with USB Power Delivery support.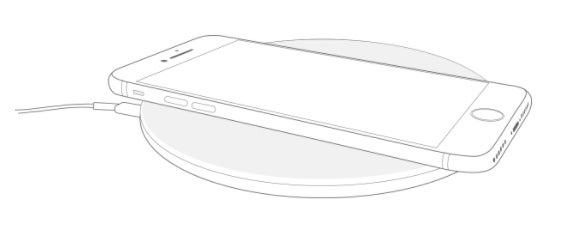 To ensure optimal wireless charging, place your iPhone screen-up in the middle of your charging pad
Can charging an iPhone 8 wirelessly damage its battery?
In theory, yes, it has the potential to do so. Wireless charging generates extra heat, and heat exposure does reduce a battery's lifespan. This is the case with every phone that supports wireless charging. But in practice, charging your new iPhone wirelessly probably won't cause any more harm than using its stock charger. As Apple clarifies, your iPhone 8's software will detect if its battery is too warm, in which case the charging process will pause until the cell cools down.
So, should I charge my iPhone wirelessly?
There's no denying that wireless charging is convenient. You just place your iPhone on your charging pad and let the juice flow; it would be really nice having a wireless charger at the office or on your bedside table. If you're okay with the limitations we outlined above, then don't hesitate to live in the future and go wireless. Plus, you'll have an excuse to buy one of those
IKEA lamps with built-in wireless chargers
. Just don't abandon your good old wall charger yet. You might still need it during a particularly intense Hearthstone session.
Read more: