Wireless Apple-branded headphones might be launched this year
23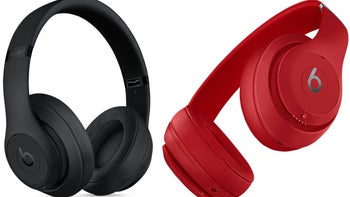 Apple is reportedly working on a pair of own-branded high-end headphones that could be released before the end of 2018. According toBloomberg and people familiar with the matter, these new headphones shouldbring features like noise cancellation and wireless connectivity, being Apple'sfirst own-branded over the ear headphones (but not the first Apple-brandedwireless earphones, since we already have the in-ear AirPods, launched in late 2016).
For now, it's unclear how Apple intends to differentiatethese new headphones from the wireless models that the company is alreadyselling under the Beats brand - including the Beats Studio3 (pictured above, currentlycosting $349), or the Beats Solo3 ($299). In any case, Bloomberg's report is echoinga previous note from reputable analyst Ming-Chi Kuo, who also mentioned that new Apple-branded headphones could arrive this year.
Bloomberg has it that Apple may have not decided on the headphones' final design yet. Furthermore, it's said that the company might encounter unspecified developmentissues that would force it to delay the headphones to 2019, or even tocancel their launch altogether.
Later in 2018, Apple is also expected to release second-generation AirPods(with a splash-resistant design and enhanced Siri integration). We'recertainly looking forward to seeing what new music-oriented products the company has been working on lately.
source: Bloomberg