Windows powered iTablet by X2 trumps iPad's mojo?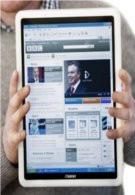 Are we about to see a potential war between Apple's iPad and X2's iTablet – much like the ad campaign we saw with DROID does? The British based company may have seemingly placed the iPad under the bus as it unveiled its Windows based iTablet. The name was one of the many that was speculated to be drafted by Apple's very own iPad, but instead it now graces the tablet PC that X2 has managed deliver out of nowhere. Is it that the iTablet DOES everything that the iPad doesn't? Well it's starting to look just like it when you look at its 10.2" or 12.1" screens with 1,024 x 768
pixel
resolution, Bluetooth built-in, 802.11 b/g Wi-Fi, 250 GB hard drive, and its optional 3G GSM modem. To top it off, it offers users a choice of multi-tasking capable operating systems like Windows 7, Windows XP Tablet, and Linux – all the while packing an Intel processor running at up to 1.6 GHz with 2GB of RAM. Unlike the iPad, the X2 iTablet will allow owners to take photos, multi-task, offer an HDMI connection, three USB 2.0 ports, and will play flash videos of course – there's a whole of DOES so far to it. This all became a reality with X2 Computing's partnership with a Taiwanese company that originally put out a product under the iTablet name in 2007. From the sounds of it, the iTablet seems like a compelling device that many people considered the iPad to offer. Still, there are the usual pros and cons for each device – so it'll ultimately be their choice as to which product best delivers on their needs.
source:
CNET UK