Windows dev publishes Microsoft Lumia 950 XL battery test, results look very promising
12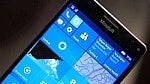 The Windows developer behind the Battery Super Saver app managed to get his hands on a demo version of the newest Lumia phablet. According to his Microsoft Lumia 950 XL battery test, the phone will come with very fast charging.
The video shows that the
Microsoft Lumia 950 XL
battery can go from completely dead to 50 percent charged in 36 minutes. The length of a full charge, from 0 to 100 percent, took only 1 hour and 39 minutes.
Now, before discussing the implications of this test, please bear in mind that we cannot guarantee that the video was not faked. As you can see for yourself, it's not a one-shot take, and faking the results would have been a mundane task. We'll obviously repeat this test for ourselves once the Lumia 950 XL officially launches.
Although these are great numbers for any phone, they gain added importance when taking into account that the Lumia 950 XL comes with a rather large 3300 mAh battery. By comparison, the
Samsung Galaxy Note5
and
Samsung Galaxy S6 edge+
, phablets that you can find near the top of our charging-time benchmarks, can fully charge their 3000 mAh batteries in 1 hour and 20 minutes. Considering the difference in battery capacity, the results are highly similar.
When Microsoft unveiled its Windows 10 Mobile flagships, the Lumia 950 and the Lumia 950 XL, the company said that the phones come with fast charging, but made no mention of the actual standard that the phones will support. As the two phones are based on high-end Qualcomm Snapdragon chipsets, Microsoft could have easily implemented Qualcomm's Quick Charge 2.0 technology, which is a standard that's also supported by the two Samsung phablets previously mentioned. With no word from Microsoft on the topic, nothing can be confirmed at this point.
Note that the Microsoft Lumia 950 XL was able to achieve this feat despite the fact that the display was on at 50% brightness throughout the duration of the test. What this means is, unless this video has been tricked, the phablet will actually charge even faster under normal circumstances.