Windows Phone Tango will officially launch in China March 21st
1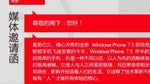 If you have been waiting patiently for
Windows Phone 7.5 Refresh
, the "Tango" update, it appears your wait is coming to an end. According to Tech Crunch, Microsoft has been sending out Chinese-language press invitations for the Beijing debut of Tango on March 21st. It's not a vaporware tease either, as Nokia has indicated it will have three different Lumia handsets ready to launch in China by March 28th.
No official word on when it will release to the rest of the world, but presumably very soon thereafter. In some ways the Tango update is very much "the Nokia update"; Nokia's bread and butter has long been lower-cost phones in developing markets, and by enabling Windows Phone to run on less powerful hardware they are really playing to Nokia's market strength.
Of course in the Chinese market, at least, their work will still be cut out for them; While Nokia was at one point
the largest cell phone maker in China
, Android has grown quite popular there (both "regular" Android and forked Chinese versions) and Apple's iPhone is a much-coveted item. Will Nokia and Microsoft be able to gain a foothold in the largest mobile market in the world?
We'll keep an eye on it, but for Windows Phone to succeed it needs desperately to start gaining market share somewhere.
source:
Tech Crunch