Windows Phone Marketplace will have a Web-based version in time for Mango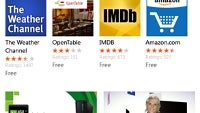 What's a self-respecting mobile OS these days without an online version of its adjacent application store that you can look up on your computer, instead of squinting at the phone screen?
Not much, it turns out, since the guys working on Mango posted that there will be a
Web version of the Windows Phone Marketplace
- Microsoft's mobile apps store - in time for the
Mango update
. Not that you couldn't buy apps through the Zune software, but Mac users will appreciate the novelty.
Thus, the WP platform will follow in the footsteps of iOS and Android, which have their own desktop browser-accessible application shops, which makes it much easier to search and shop around for apps, read reviews and watch demos. By the time Mango hits, Windows Phone Marketplace will probably be hosting north of 20 thousand applications, so anything that aids choosing is welcome. Not to mention that Nokia's apps will also find a place there, as
the Ovi brand transitions into Nokia Services
, and the app listings get uploaded to the WP Marketplace.
Having a web-based version of the WP7 app shop will also help sharing apps with friends or family, now you can just send the link, or share on the social networks. Payments will be processed through the credit card you've linked with your Windows Live ID, or you can assign another card altogether.
source:
WindowsPhoneDevelopmentBlog
Recommended Stories