Limited edition Motorola DROID RAZR MAXX HD pictured
8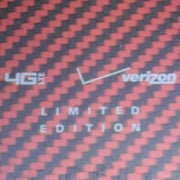 What you see pictured is the limited edition
Motorola DROID RAZR MAXX HD
that only Verizon employees can buy. Each of these customized handsets has been numbered and treated with a dash of red fibers prettifying its back side. The power button on the right side of the device has been painted red as well. There is no word as to whether any of the smartphone's internals have been altered, so we assume the hardware specs of the limited edition DROID RAZR MAXX HD are identical to those of a stock unit.
This actually isn't the first time Verizon is allowing its workers to buy modified Droids. About a year ago, l
imited editions of the very first DROID RAZR and RAZR MAXX
were offered to Big Red's employees. Moreover, those handsets were being sold at $100 less than what the stock units retailed for, leading us to believe that this customized RAZR MAXX HD is also carrying a tempting price tag. In case you want one, but you don't work for Verizon, we'd recommend you keep an eye on eBay as it won't be surprising to see one of these ending up there in the near future.