Windows Phone 8 might support mass storage mode, Zune sync begone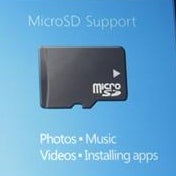 One of the user-friendly features of Android and Symbian devices is that they support mass storage mode, i.e. you just plug the device into your computer and can transfer any file back and forth just like you would with a card reader.
Now
WPDang, the perennial Microsoft plans leaker
, claims that this feature will be available with Windows Phone 8 as well. When announcing the newest version of its mobile OS, Microsoft only said it will support removable microSD cards, where you can keep your photos, videos, music and install apps.
The way Windows Phone 8 will manage the mass storage mode is that it will apparently
create separate music, video, photos and so on folders
for your multimedia and apps, and when connected to a computer and its drivers installed, the new WP8 phones will let you just drag and drop files there, rather than relying on the Zune software.
Certainly a welcome change, if it holds water, yet somehow we doubt you will be able to just drop a .xap file in any of these folders and sideload apps from there. There are a few more developer events until the first phones with Windows Phone 8 hit the market, where we could eventually learn more about this newfangled mass storage mode.