Windows Phone 8 concept smartphone is a live tile overkill
40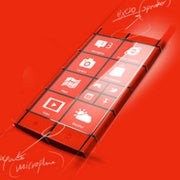 Live tiles are the salt and pepper of Windows Phone. They make the OS different from all mobile platforms there are in existence without rendering it any less functional than its competitors. We kind of dig them too for their elegance and simplicity, not to mention that with WP8 and the 7.8 update, one can have them in three different sizes.
Yet the folks at
Yanko Design
might be a bit too obsessed with live tiles, judging by these drawings of a Windows Phone 8 concept smartphone. Designed by Alexandros Stasinopoulos, the conceptual device attempts to unify the visuals of the interface with the handset's looks by extending the borders separating individual tiles across the device's entire surface. In other words, the goal is to have hardware and software complementing each other. Other tweaks you might notice affect the home button, which has been moved to the smartphone's side. There are two of them, actually, one on the left and one on the right side of the device, for easy access regardless of which hand the user is holding the handset with.
Overall, we find this design to be a bit of an overkill, but that is just our opinion. What do you, guys, think about it? Is anyone willing to show up in public using a smartphone looking like that? Let us know by dropping a comment!