Windows Phone 7 updates updating process, copy-paste "coming soon"
10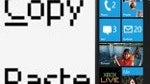 Windows Phone 7 is the new kid on theblock when it comes to mobile operating systems and it lacks somecore features like copy-paste and CDMA support. Microsoft promised toact quick and issue an update to fix this, but in the first update,which the company pushed today, the features were not included.Instead, this is just a relatively small fix preparing the system forthe major new additions. What it does is just an improvement of theprocess of updating.
"This first update for WindowsPhone is designed to improve the software update process itself,"Michael Stroh commented on the Windows Phone Blog. "It's pavingthe way for all future goodie-filled updates to your phone, such ascopy and paste or improved Marketplace search."
In any case, if you want to get theupdate you will need to connect your phone via USB to your computerand then fire up Zune (PC) or Windows Phone 7 Connector (Mac) to get started. Strohmentioned that the big update is coming soon and we certainly hope tosee it in early March as expected.
source: Windows Phone Blog