Windows Phone 7 push notifications limited to 15 apps
2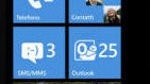 Windows Phone 7 is still new and evolving and here is one area that might need improvement in the near future, if not now. It seems that there is a limitation of
15 apps
that could use push notifications in the live tiles and if you try to add more, you will just see an error message. That might seem like quite a number, but given the fact that a few of the built-in apps like e-mail for example use push notifications, the limit might actually seem very real to many soon.
Windows Phone 7 devices will pop up an
"InvalidOperationException(Channel quota exceeded)"
error once you try to install a 16th application with push notifications. The official documentation about the error reads:
"This exception is raised when either trying to open more than one notification channel per application, or when trying to open
more than 15 notification channels
per device."
Microsoft might have put this cap to better control the user experience (or at least that's our best guess), but hopefully the limitation will be gone in the upcoming updates as 15 is a rather low number. Windows Phone 7 provides no information about the number of apps using push notifications, which makes it hard to tell if this limitation applies to only apps using live tiles or apps in general. However if you ever see such error, this should be your first guess. The only solution for the time being is simply uninstalling one app to use another.
source:
MobilityDigest.com
via
WMPoweruser