Windows Phone 7 product placement continues on ABC's 'Castle'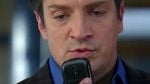 If you haven't gotten the message yet,
Microsoft
really wants you to buy a Windows Phone 7 device. After splitting a $1 billion ad budget with Kinect,
Windows Phone 7
should do pretty well. While we should have seen it coming, we honestly weren't expecting so much blatant product placement. WP7 has now made a long-winded appearance on ABC's 'Castle,' starring Nathan Fillion from 'Firefly'.
In its 30-second presence on 'Castle,' the WP7 device helps Nathan Fillion's character to find a particular location with his voice-cued
Bing Maps
. It's interesting to note that in all previous episodes of 'Castle,' Nathan Fillion's character uses an
iPhone
. We don't judge Microsoft for such shameless placement. Audience members that don't have a DVR are often watching their shows online; it's getting harder to reach your audience.
The OS has encountered similar heroism on FOX's 'Bones,' where Dr. 'Bones' Brennan gets a text on her WP7 device during an interrogation. Before that, WP7 appeared on CBS' 'Hawaii Five-O,' where a character actually told another to "Bing it," when referring to a search. Microsoft is obviously trying to achieve a ubiquitous verb-form of their brand, as there is with
Google
(i.e. "Google it").
source:
WPCentral