Windows Mobile 7 looking at Spring 2010 RTM?
This article contains unofficial information.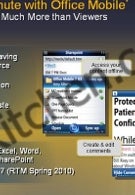 Microsoft Kitchen is reporting that during a presentation of Office 2010 to partners, a slide was screened that showed a Spring 2010 RTM time frame for Windows Mobile 7. That basically means that the software would be ready for mass distribution on cellphones, and those would be in the public's hand about 6 months later. Microsoft expert Mary Jo Foley had this to say about the timing of the release of Windows Mobile 7 to the public: "The original roadmap showed phones preloaded with WM7 being availablein April 2010. So if RTM of WM 7 is spring 2010, that's about 6 monthslater than it was supposed to be. The big question is: If they RTM inApril 2010 or so, how much of a lag will there be till the OS gets onphones? If MS can take this lag out, as they claim they plan to do,that will help them get to market a little faster." Also spotted during the presentation was a couple of slides for Office Mobile 7 UI images. If one considers the just released Windows Mobile 6.5 to be a stop gap measure, Windows Mobile phones are going to be looking quite different, with plenty of new functions, in a little more than one year from now.
source:
MsftKitchen