Windows 10 Mobile minimum specs go even lower than Windows Phone
20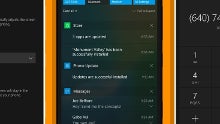 Microsoft has outed the minimum required specs for
Windows 10 Mobile
, and those will really surprise you. The new mobile OS edition is really scraping the bottom of the low-end barrel here, and the required specs are even lower in some aspects than what Windows Phone 8.1 demanded.
For starters, Windows 10 Mobile will be able to run on devices with 512 MB of RAM and 4 GB storage only, which is the same threshold we had before with WP 8.1. Here the bar gets lowered, though, as Win 10 Mobile handsets can lack even Bluetooth and accelerometer, and can sport VGA front cameras, while the WP 8.1 mark was at 2 MP.
When it comes to processors, the Win 10 for phones will be able to run on every Qualcomm chipset under the sun - from the lowly Snapdragon 210, to the beastly 810, as well as Intel's X3 Sofia LTE SoC. All in all, it seems that Microsoft has managed to optimize and shoehorn the new mobile OS for even the most basic of scenarios, perhaps in reference to
those $80 handsets it is prepping to release
, but don't expect Windows 10 Mobile to run the same and offer the same features from the lowest hardware specification to the highest.