Will the Sony Xperia Z cope with the fierce competition of 2013?
99+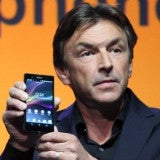 Oh, Sony, oh Xperia! How good it is to see an old player return to the big game with a bang. The Xperia Z, announced at CES 2013, turned out the be the most-intriguing smartphone at the whole expo, although that wasn't really hard to achieve, considering the complete lack of competition. But outside of CES, the competition is hard at work, desperately trying to come up with the next big thing for 2013. The Galaxy S IV, Note III, iPhone 5S/6 - these are just some of the killer-handsets that are going to wage war for every single consumer this year.
Still, we're pretty sure that Sony has a really strong performer in the Xperia Z; after all, the phone has a large and high-resolution screen, super-fast chipset, promising camera and an exquisite design that not all companies can offer. Many see the Xperia Z as a good opportunity for Sony to return to the high-end game and actually do some damage, but the reality is that it'll be extremely difficult.
What do you think, guys and gals, will Sony's Xperia Z and outstanding brand recognition be enough to disturb the the status quo? Let us see what you think by casting your votes in the poll below!