Will T-Mobile be announcing a new initiative involving unlocked phones on Wednesday?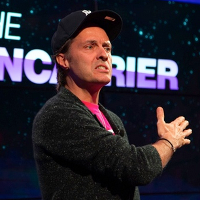 A few days ago, we showed you
an image of the Samsung Galaxy Avant, a low priced 4G LTE model headed to T-Mobile
. While the phone has yet to have been unveiled by Samsung, it still is playing a part in possibly tipping us off to one of the new initiatives that T-Mobile could be announcing on June 18th. On that date,
the nation's fourth largest carrier will be announcing UN-carrier 5.0
.
The speculation is that T-Mobile will be introducing simplified pricing plans on Wednesday. That means you get a bottom-line price, including all taxes and regulatory fees. In other words, there will be no surprises on your monthly bills. But there could be more. A test version of the
Samsung Galaxy Avant
has been discovered with the model number SM-G386T. What makes this handset so interesting is that it featured a pre-installed app for carrier unlocking of the phone. Clicking on the app and following some directions resulted in the phone becoming unlocked. At that point, a Verizon SIM card inserted into the phone worked perfectly.
There are a couple of interesting notes. Once the carrier unlocking app was used, it did not show up again on the phone once the handset restarted. Also, when the general care team was called to discuss the unlocking of the phone, they explained that the department was no longer responsible for device unlocking. When you add it all together, it does seem to add up to the possibility that T-Mobile will be announcing some sort of plan that will keep you from being locked into the carrier's network if you want to leave.
First came the end of the two-year lock-up with the extinction of subsidized equipment contracts. Now, we could be on the cusp of seeing the end to locked phones for T-Mobile customers. It does add up. If you're no longer beholden to your carrier for paying a portion of your handset, perhaps you should be allowed to take that phone wherever you want to go.
source:
TmoNews