Will LG launch an Android tablet later this year?
8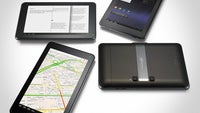 Back in 2011, LG announced the Optimus Pad tablet. It was an okay device for its time – with a dual-core processor, good display, running Android 3.0 and with unique 3D video capturing functionality. But the high price of the
LG Optimus Pad
hurt its sales globally. As a result, it failed to make an impact on the tablet market dominated by the Apple iPad, which is probably why LG didn't even bother to release a successor to the Optimus Pad.
However, LG may be getting ready for a comeback on the tablet market, according to Korean media. In fact, the company may be working on a
new LG tablet scheduled to launch before the end of Q3, 2013.
Details are scarce at this time, as much as we wish it wasn't so. Media reports don't even mention what OS the rumored device will run, but our intuition tells us that LG will pick Android as the platform for its upcoming slate. Whether it will come in one size only, or LG will make multiple variants of its tablet is not known.
The tablet market is still dominated by Apple
as its iPad lineup holds almost 40% of the market share. Samsung holds the second place with about 18% of the market, followed by Asus and Amazon with 5.5% and 3.7% respectively. Will LG manage to grab a piece of the pie with a tablet offering of its own? Only time will tell, folks.
Recommended Stories