Will Google release a Nexus 8 with Intel's new Moorefield chip in July?
8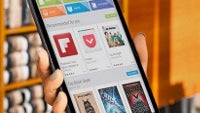 Multiple reports have suggested that Google might scrap the Nexus 7 launch altogether this year, and go with an 8-inch Nexus 8 tablet instead. We have also heard rumors about this supposed Nexus 8 coming alongside a new version of Android, 4.5 Lollipop, right after Google's I/O event on June 25th. What's new now is speculation that Google might release the alleged Nexus 8 in early July with Intel's new Moorefield (Intel Z35XX) chip inside.
AndroidPIT theorizes that the supposed summer launch of the Nexus 8 matches the plans for the roll-out of Intel's new Moorefield (with clocks of up to 2.3GHz), and that is more than just a simple coincidence.
An Intel-powered Nexus would be a big push for the struggling in mobile Chipzilla. However, it might also be a deserved endorsement: Intel's new 64-bit, 22nm silicon adds a new level of polish to the current Merrifield platform, bringing it in a quad-core envelope and bundling in an extremely powerful PowerVR G6430 graphics. The latter is the exact same GPU that is powering Apple's current lineup - the iPhone 5s, iPad mini and iPad Air. If Google (with Intel's help) manages to bring it at a much lower price point, as it did with earlier Nexus tablets, Apple might well feel a lot of pressure in its tablet sales as well.
Intel has also promised to ship a Moorefield version with Intel's new state-of-the-art XMM7260 4G LTE modem on board. What can we make of this? Not much, but such a combination of Moorefield with the XMM7260 could power a 4G LTE-enabled model of the supposed Nexus 8.
Interestingly, earlier, at MWC, Intel unveiled
"multiyear agreements with Lenovo, Asus, Dell and Foxconn ... to expand the availability of tablets and smartphones with Intel Atom processors and communication platforms"
. Google is clearly nowhere to be seen on this list, nor is Asus (the company that manufactures the 2013 Nexus 7), but we would not be surprised if Intel and Google had decided to keep this supposed Nexus 8 partnership under a seal of secrecy. Finally - while all of these suggestions sound incredibly juicy - keep in mind that we have no official statement by Google or Intel, nor even any substantial evidence to back them up, so spice up that juicy rumor cocktail with a healthy grain of salt.
source:
AndroidPIT
via
TechEye