Will 3D play a role when you choose your new smartphone (Poll results)
12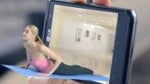 Much has been made from the fact that the first 3D-enabled smartphones are nearing release - that's certainly an exciting prospect in the long term, but we were interested to see whether you guys actually want a 3D screen or the ability to shoot 3D videos on your phone
right now
- or there is some artificial hype about all things 3D.
Almost half of you (
49.21%
to be precise)
claimed it's something nice, but not too important
, emphasizing that they won't overpay just because a certain phone has 3D features. Then we have
27.05%
of you who say (or rap, if they are Public Enemy fanboys) something along the lines of
"Don't believe the hype (about 3D)"
and inform us that they don't need 3D on their phones. Last in our poll are the lads with the positive answer (
23.73%
), who tell us that
3D is a whole new dimension for smartphones
, so, yeah, they sound kinda excited to us.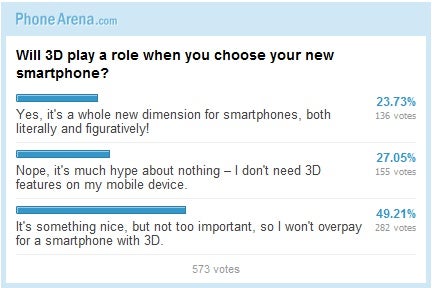 Recommended Stories