Why no iMessage for Android? Apple exec explains why the service is staying closed
63
The days leading up to
Apple's WWDC 2016
were chock full of rumors detailing what announcements we might expect from the conference. Some of them proved to be right on the money, like how Apple renamed Mac OS X to simply macOS. Others promised big, but WWDC came and went without seeing their fulfillment: such was the case for rumors that
Apple was about to open its in-house iMessage platform to users on other operating systems – and Android in particular
. While WWDC 2016 did indeed include
a number of announcements revealing new functionality for iMessage and the Messages app
, that cross-platform support was not among them. Now we're getting a little insight into why, as an Apple executive comments on the decision to keep iMessage an Apple-only affair.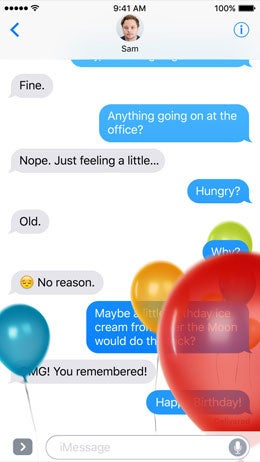 No iMessage balloon fun for Android users
Apple's rationale is apparently two-fold. One of its reasons seems a bit obvious: that iMessage is an attractive messaging platform (and one only getting more attractive with new features landing), and keeping access to it an Apple exclusive helps to some extent in driving customer traffic to the company's devices.
Earlier, we rationalized that perhaps Apple saw a roundabout way that iMessage could be some kind of "hook" helping to lure Android users to iOS; clearly, that wasn't what the company ultimately had in mind.
The other reason given for not opening iMessage to Android is a little less intuitive: iMessage is already big enough. The unnamed Apple executive suggests that the iMessage user base is so large (with
a billion devices in service
), that it's generating more than sufficient language data for any iMessage-driven artificial intelligence learning project that Apple might want to undertake – and adding new Android users wouldn't make that data any more useful.
While those explanations might not be great to hear, especially if your group of friends extends across platforms and keeping in touch right now is a bit of a pain, it's hard to fault Apple for its logic. If there's no direct benefit to expanding access to iMessage, why do it?
source:
The Verge
via
Phandroid