iOS 10's Messages app will be a huge update, gets its own app store
17

Today,
Apple announced iOS 10
, and with it – a Messaging app that's been renovated from the ground up. While a big part of the new Messages will be tied to iMessage, that is to say iPhone-to-iPhone chat, there are also some exciting features for old-school SMS users. There's quite a lot to cover, so let's get started!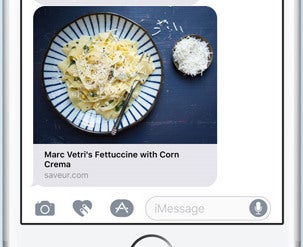 Rich link previews in iOS 10 Messages
#1 Rich links
Say goodbye to those long, unsightly addresses called URLs. From iOS 10 on, posting a web link through Messages will result in a nice preview, with a post excerpt and an image illustration, if available – just the way it should be in the 21st century. For some links, Apple has taken rich links a step further: for example, YouTube links to videos will play right inside the Messages app.
#2 Camera & Photos access
From the message composition screen, a swipe up will reveal your camera viewfinder, allowing you to snap a pic for instant sharing. Alternatively, a swipe to the left from the viewfinder will bring out your image gallery.
#3 Bigger and faster emojis
Apple is trying to improve its Emoji keyboard proposition on every possible occasion, and iOS 10 will be no different. First off, emojis will look much better in the new Messages app, as they will be 3x bigger than before. And second, Apple is introducing a new tap-to-replace feature: while typing a message, words that can be associated to certain emojis will be highlighted, meaning that a simple tap on them will immediately transform them into the appropriate emoji. What can we say but: expect a lot more of those funky little pics to start visiting your inbox come this fall!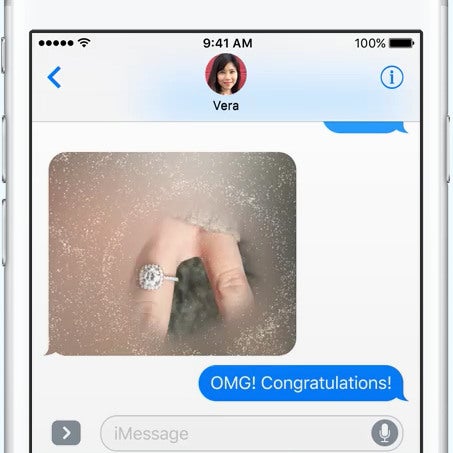 A picture message being revealed with a swipe
#4 Swipe-to-reveal messages
With iOS 10, users will be able to send a message to someone and add a little bit of suspense to it, by using the new swipe-to-reveal effect. Working with both text and images, it acts like a heavy blur on top of your message. In order to reveal the contents, the recipient has to swipe over the message. It seems like a fun new feature which can add some playfulness to an otherwise ordinary chat session.
#5 Handwritten messages
It might seem a bit weird, but iOS 10's Messages will also let you scribble handwritten messages. Then, upon viewing it, the recipient will see a nice animation of the message being written out on their screen, for a nice personal touch.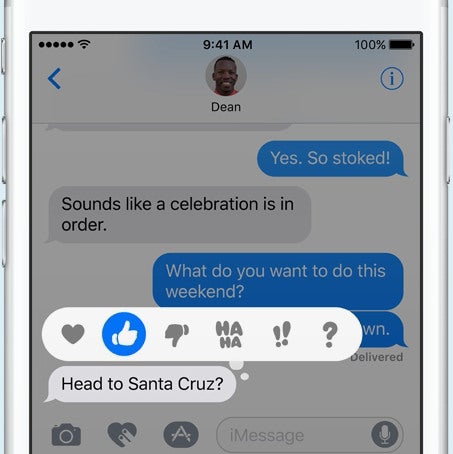 The six quick reaction tags
#6 Quick reactions
Sometimes, we respond to what other people say in more subtle, nonverbal ways, like a quick nod, or a shrug. Similar type of reactions will be embedded into Messages for iOS 10 – simply tap on a message to tag it with one of six available quick responses. Like!
#7 Apps for iMessage
iOS 10 is going to open up Messages to third-party app developers. The idea here is that devs will be creating mini-apps that will be accessible right through Messages. Such apps may include sticker apps, Apple Music (we imagine for music sharing purposes), apps for money transfers, etc.
#8 Message bubble effects
Now that's a big one: similar to Google Allo's whisper/shout feature, iOS 10 messages will let you express a little bit of emotion by customizing the size and look of your message bubbles. A very nice example is the smash effect, which adds a pronounced force-impact to your message's appear animation, and not only that, but it also shakes up all other messages before it as well, which looks really cool.
And these were the biggest new features that will be integrated into Messages in iOS 10. Don't hesitate to let us know which one you like best!