Why Google's Pixel 4 teaser is a brilliant move
17
This article may contain personal views and opinion from the author.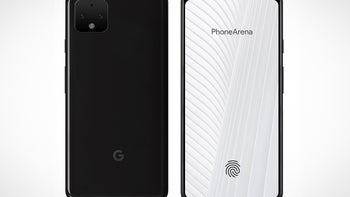 Yesterday we were merely speculating which design would the next Pixels likely employ, and today things are literally set in stone as Google--yes,Google--went full sicko mode and revealed its upcoming flagship device by sharing an image on Twitter.
You've probably seen it already, but in case you haven't, just take a peek below.
Even though we are four months or so before the Pixel 4 and Pixel 4 XL go official, the rumor mill had started churning out spicy information and speculation long before Google decided to get on top of the game and proudly announce, "Yes, the Pixel 4 exists and it will look like that". And I think this a genius move that signals a paradigm shift for Google. Let's explore why this is such an outstanding move.
#1. It generates hype
We've seldom seen a phone company suck it up and officially acknowledge the rumors that are circulating around the air. Sure, they don't generally comment on leaks and renders, but it would be childish to assume they aren't aware of all the buzz-talk surrounding their secretive next gadget. And what's a better way to create hype for your product than creating it yourself?
Some, like OnePlus, have actually employed controlled official reveals and teasers as a pre-announcement marketing strategy that seemingly works wonders for the popularity and hype. The OnePlus 7 Pro, for example, got its fair share of media attention days before its official announcement when OnePlus teased that it will come along with a ground-breaking display. The masses were already starving to see OnePlus' newest flagship, and this controlled teaser was the equivalent of a parched traveler stumbling upon an oasis. And this is totally not the first time OnePlus has engaged in such type of guerrilla marketing that's more akin to up-and-coming start-ups, never-mind established companies that have already made a name for themselves in the industry.
Certainly, self-promotion on social media isn't something new or something that OnePlus in particular invented, no. However, this is probably the first time Google has pro-actively engaged the never-stopping leak/rumor culture. And let me remind you that this was the very same culture that was responsible for the unprecedented full disclosure of th Pixel 3a/3a XL mid-rangers months before the search giant even announced it. Heck, a full hands-on video originating from Ukraine revealed all the ins and outs of the non-released devices.
Google's Pixel 4 teaser essentially gets ahead of all recent leaks and rumors, and eliminates most of the fluff speculation that was about to poison the air in the coming months. Instead, Mountain View successfully kick-started constructive hype for its devices! No longer will we wonder how many cameras or what design will the rear of the upcoming Pixels boast; instead, most speculation will shift towards the specifics of the already-revealed rear design. Is the secondary camera a wide-angle or a telephoto one? Is the small hole on the camera setup a spectral sensor... or just a microphone? Is the camera bump pronounced or flush with the body? What does the front look like?


#2. One-upping Apple

Okay, this one could be a bit of a petty stretch, but bear with me.




We've already heard that the next round of iPhones might employ a triple-camera setup that would be housed in a very similar square-ish camera module. These rumors were based on multiple sources close to Apple's production plants over in China, as well as one of those pretty telling CAD drawings. While Apple will most certainly release its next iPhones well before Google announces the Pixel 4 lineup, the general public might view Apple as the copycat in this situation, because an official teaser from a company beats an unconfirmed leak any day of the week. Although it might be a petty thing to say or acknowledge, I'm certain that upon seeing the next batch of iPhones many Android fans will exclaim "Google did it first!"
"Google did it first"
Google indeed seems to establish itself as a trend-setter after failing to become a truly mainstream phone maker for years. Despite all their merits, Pixels never enjoyed steady sales numbers. The latter can be attributed to either low supply and Google's inability to meet the existing demand for some of its previous Pixel releases. Moreover, the Pixel 2/2 XL release was ridden by tons of bugs and issues that certainly left a bad taste in the mouths of the unlucky adopters.
It's time for a paradigm change at Google. Is it going to continue with its sub-standard phone releases or would amp things up and deliver in both the quality and quantity departments.
#3. The public will get accustomed to the camera bump
Let's say it - many, including myself, are not convinced with the aesthetics of the rear camera setup. It looks too large and unsightly, lacking the cheerful and easy-going design of the Pixel 3/3a lineups. Of course, people would get accustomed to literally anything given enough time, and thus this teaser is a genius move on Google's part.
For one, it acknowledges that such a setup would most certainly be present on the Pixel 4 lineup. Second of all, Google is preventing all the bad press that could criticize them for using such a crass design element later this fall. If there's about to be any open criticism, it's happening now, and not in the October/November period when the Pixel 4 family goes official.
From an eyesore to an 'eh'
People will most certainly have accepted the idea that the next Google phone won't be such a looker, and will most likely focus on its good features. Truth be told, how often do you look at the rear of your phone? Mine-and yours-disdain for offset square camera bumps is a pet peeve that doesn't really matter in the grand scheme of things. The camera performance is infinitely more important than design, very possibly the make-or-break functionality of a modern smartphone. Whatever any of these companies put there, there's a high chance that the core fanbase will suck it up and accept the fact.
I think we should all do the same. Silence, trolls.


#4. The Pixel is finally going mainstream
After years of standing its way and relying on merely a single camera to deliver outstanding results, Google has finally realized that the potential phone adopters in late 2019 will have a very niche and particular list of needs that need to be met. Buying a flagship smartphone in 2019 is very similar to a long-term relationship with another human being - if all goes to plan, you will be together for a few years at least, and you are way more careful in your consumer research beforehand.
It'll be suicidal if the Pixel 4 doesn't really come with a ultra wide-angle camera, which will most certainly be present on each flagship smartphone by the end of the year. Telephoto camera experience can be sort of emulated with Google's imaging algorithms that produce not-too-shabby digitally-zoomed images. Still, you can't really emulate a ultra wide-angle camera with software.
With Google caving in and adopting such a sensor it clearly sends the message that is aiming for the true mainstream, where a minor missing feature can make or break an otherwise-excellent device. Surely, Google could have tried pulling out the jack-of-all-trades single camera once again, but I don't see this panning out very well.