White Nexus 4 8GB model is no longer available on Google Play
15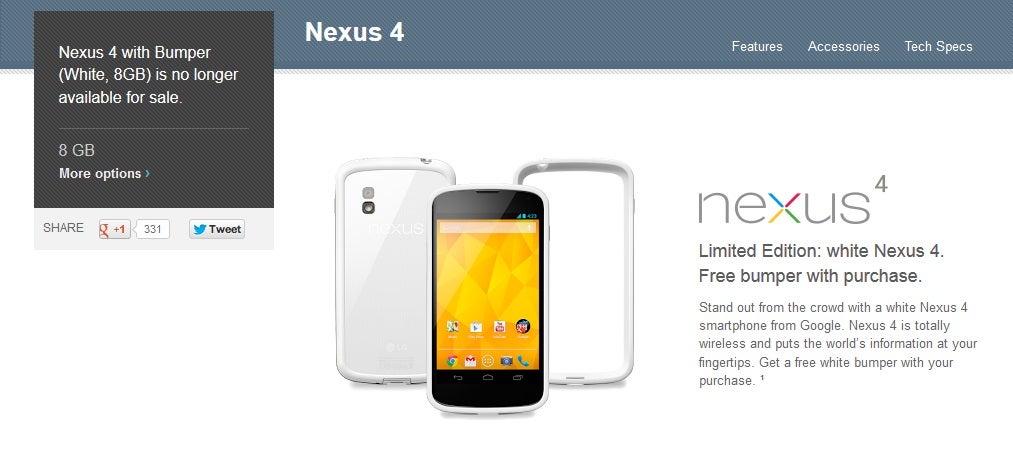 So, when we heard that the white
Nexus 4
was going to be a limited edition, it was not a marketing tactic. If you check out Google Play and look at the 8GB flavor of the white Nexus 4 you will see it is no longer available. Instead, you are prompted to choose another Nexus device. The 16GB model is available in white, and it still comes with a free bumper case with purchase. Who knows how many of those devices are left in the storeroom? The black Nexus 4s are still in stock.
While
Google Play has not had the easiest of times managing
demand and estimating shipping for people that have wanted to buy a Nexus 4, it is pretty clear that the white 8GB device has run its course. If you were on the fence about buying a Nexus 4 versus a Google Edition Samsung Galaxy S4 or HTC One, remember those devices are not expected to ship until July 9th, and then we really do not have an idea what sort of demand Google and the OEMs will be dealing with.
If demand is strong like it was for the Nexus 4, expect Google Play to choke on the demand and do not expect a quick shipping time. Given the price difference between the Samsung and HTC versus the Nexus 4 however, we are not so sure that will be the case.
If the white Nexus 4 appealed to you though, you might not want to wait much longer.
source:
Google Play
via
Droid Life