White HP TouchPad is real, comes with more storage and an upgraded processor
7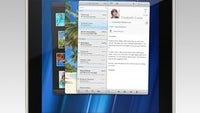 Well, it looks like
the rumors
were on the right track –
a white version of the HP TouchPad
was indeed in the company's agenda and can now be purchased online, at least in some parts of the world. Estimated to ship in about 1 to 2 weeks, the white HP TouchPad has been spotted on HP's French online store and is currently available for the rather hefty 599 euro, which is about $860.
That price tag is, of course, far steeper than the $399 or so that the plain ol' black, 16-gig TouchPad would cost to get in the States, yet considering the bump in specs that the device is being treated to, some webOS fans might find its price pretty reasonable. Besides the glossy white outfit, the tablet now packs a faster, 1.5GHz dual-core processor and the plentiful 64 gigabytes of storage. Other than that, however, things remain pretty much unchanged – the white HP TouchPad has the same 9.7-inch display, 1.3-megapixel front-facing camera, 6300mAh battery and runs webOS 3.0.
Unfortunately, we still cannot say with absolute certainty whether the white HP TouchPad will ever set foot on US soil or not. With
the poor sales of its black sibling
, one might even wonder whether it would be truly worth it.