Which smartphone manufacturer was more popular last month at Best Buy, Samsung or Apple?
76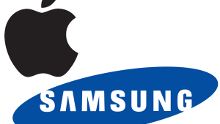 Just yesterday, we showed you a report from JeeQ Data which revealed that
Samsung was the top brand for smartwatch/fitness band sales at Best Buy during April
. Now, the analytics firm has broken down some more data and this time it is about a subject near and dear to our hearts: smartphones. The data shows which of the two largest smartphone manufacturers sold the most units (with a data plan) at big box retailer Best Buy last month.
The results? Apple had 51.14% of the smartphone sales belonging to the two rivals, while Samsung garnered 48.86% of the pie. A daily breakdown of the data shows that there is some reason for Samsung to be hopeful for next month's numbers. Once the
Samsung Galaxy S6
and
Samsung Galaxy S6 edge
launched in the U.S. around April 10th
, Sammy's sales number vis-a-vis Apple's sales really took off and topped its rival for most of the remainder of the month.
What if we broke these Best Buy sales figures down by carrier? Perhaps it is because AT&T once had an exclusive on the iPhone, but Best Buy customers using the nation's second largest carrier favored Apple by a large margin, 66% to 34%. Unlike the overall sales data at the big box retailer, when it came to AT&T, the iPhone managed to hold off the Samsung Galaxy S6 and Galaxy S6 edge during the second half of last month.
Verizon subscribers favored Samsung handsets when they made their new phone purchases at Best Buy last month. Samsung branded smartphones accounted for 52.12% while the remaining 47.88% belonged to Apple and the iPhone. Verizon customers started buying Samsung smartphones in earnest at Best Buy once the Galaxy S6 and Galaxy S6 edge were released.
Finally, JeeQ Data looked at the market share of various colors for Apple and Samsung smartphones sold at Best Buy last month. Space Gray was on top with 38.86% That color is available for the
Apple iPhone 6
,
Apple iPhone 6 Plus
and the
Apple iPhone 5s
. The White Pearl color option for the Samsung Galaxy S6 and Samsung Galaxy S6 edge was next with 14.57% of sales. That was followed by the 13.71% share for the Black Sapphire color available for the new Samsung flagships. Gold, a color choice for buyers of the iPhone 6, iPhone 6 Plus and iPhone 5s, was in fourth place with 10.29%. The charcoal black color option for the
Samsung Galaxy Note 4
, Samsung Galaxy Note Edge and Samsung Galaxy S5 rounded out the top five with a 6.57% share.
source: JeeQData