Which phone is hotter? Xiaomi Mi4 vs Meizu MX4 Pro vs Honor 6+ heating test
31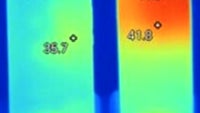 Thermal imaging at its finest, folks, we can't imagine a better use of it than measuring how much our smartphones heat under gaming pressure, and here it is, a heating comparison between the three hottest handsets from the
most up and coming Chinese manufacturers
.
The recently released
Meizu MX4 Pro
flagship has been put to the test together with Huawei's dual camera
Honor 6 Plus
, and Xiaomi's ever-popular kid the
Mi4
. Now, this test is very interesting not only because we don't see thermal imaging comparisons every day, but also because the three handsets run three totally different chipsets that are representatives of the three largest brands in mobile silicon at the moment.
Meizu MX4 Pro is powered by an octa-core
Samsung Exynos 5430
, clocked at 2 GHz, Huawei uses its own octa-core
Kirin 925
silicon for the Honor 6 Plus, clocked at 1.8 GHz maximums, while Xiaomi goes with a more orthodox
Snapdragon 801
chipset, whose four cores are clocked much higher than the other two, at 2.5 GHz maximums.
What numbers did these chipsets return? You can see them in the slideshow below, but long story short, the lower clock speeds of Huawei's Krin processor, coupled with its heat-dissipating body, were keeping it way cooler than the other two powerhouses, whose backs were getting quite... toasty, especially the Mi4. Check the heat maps out.