Which phone feature do you use the most?
43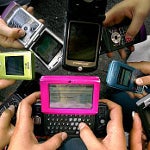 Our smartphones are becoming increasingly powerful, with manufacturers being capable of adding more and more features in every new model, thanks to advancements in technology.
With such kind of power, though... comes great responsibility! Scratch that. We meant that with such kind of power, we can do tons of stuff with our phones - from simple voice calls, to video calls, playing games, watching (YouTube) video, exchange emails, use social networks like Facebook and Twitter, read and edit documents, browse the web... you name it!
It is obvious that with so much new features being introduced every year, the way we use our handsets will constantly evolve. If we look at what people's usage was about 10 years ago, we'll find that it consisted mostly of voice calling and text messaging (and of course, Reversi and Snake!). Once smartphones started to come into their own, though, people began using them for more advanced stuff like web browsing, document editing and photography. And today, we have these powerhouses that can do almost anything that your computer can do, with the added inconvenience of the smaller screen.
With all that said, we think it'll be very interesting to see what those usage patterns look like today. Below you'll find three polls, where you can vote for the first, second and third most frequent activities that you do on your cell phones.