Which iPhone would you get?
99+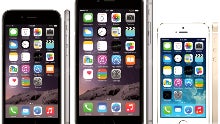 Now that the
Apple iPhone 6
and
6 Plus
announcement is behind us, and the new pricing of the
iPhone 5s
and
iPhone 5c
is known, we wanted to ask you which one of the current Apple handset quarter would you get.
The iPhone 6 takes the reign over from the iPhone 5s, introducing a much larger, 4.7" display with the same pixel density as before, a thinner chassis, a better iSight camera, faster A8 chipset, and plenty of new sensors and wireless connectivity options. This all fine and dandy, but in this day and age of the
Great Phablet Crusade
, a 4.7" screen diagonal might seem small to many, especially if you are coming from the 5.5"+ world of Android giants. That is why Apple hedged its bets, and introduced its most gigantic phone ever, the iPhone 6 Plus, with a supersized 5.5" screen diagonal, which takes all the nice features of the 4.7" sibling, but adds optical image stabilization, landscape interface mode, and a much larger battery to keep the lights on. Apple will continue selling the iPhone 5s and 5c at a reduced price by a Benjamin, for those who want their handsets smaller, more palm-friendly, and don't really care for exclusive features like
Apple Pay
, of course.
The iPhone 6 starts from $199 on contract, the 6 Plus begins at $299, while the iPhone 5s is now down to just $99, and the colorful iPhone 5c can be had for zero dollars on contract. Their off-contract full retail prices go as follows: $650 for the iPhone 6, $750 for the 6 Plus, $550 for the iPhone 5s, and $450 for the iPhone 5c. At these prices and specs, which one would you get, if you are in the market for a new iPhone?