Which carrier should you use with the Apple iPhone 4S in the States?
38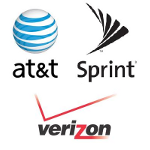 Real world testing of the
Apple iPhone 4S
over the three major U.S. carriers that offer the device produced results that match what you might expect. The test was done by
Apple Insider
and while they only represent the results from a limited area of the country, they do give an overall view on what to expect from each of the three carriers.
One thing that Sprint users of the Apple iPhone 4S
have been complaining about is speed
and that seems to be a valid complaint. Using the SpeedTest.net app available from both the App Store and the Android Market,
Sprint's average speed
in Mbps came to .559 down and .422 up. That certainly pales in comparison with
AT&T's average
of 1.622 Mbps down and .764 Mbps up.
Right smack in the middle is Verizon
with an average download speed of .724 Mbps and upload speed of .547 Mbps.
While the theoretical highest speed for the iPhone 4S that can be achieved on AT&T's HSDPA pipeline is 14.4 Mbps, the fastest speed on AT&T's network produced in real-time was 5.439 Mbps. That is not a bad score and is equivalent to a reading one might see using Wi-Fi, but still it was not close to the theoretical maximum results. The maximum speed for Big Red was 2.192 Mbps on the download side, and 2.020 Mbps for Sprint. Remember, the latter two carriers use EV-DO rev. A for data transmissions.
Another interesting aspect to the test showed that
during more than half the tests
(55% to be precise), Sprint's network recorded a score under .5 Mbps down. That happened to Verizon 47.6% of the time, but only 17.5% on AT&T. The truth is that AT&T's pipeline will never get caught by Verizon and Sprint's EV-DO technology which explains the rush to build out LTE service.
AT&T established itself as the
fastest carrier for the Apple iPhone 4S in the States
. But what about having bars on your phone when you need it the most? According to the test by
Apple Insider
, AT&T and Sprint are more likely than Verizon to lose its signal in fringe areas. Big Red was able to provide just enough bars to allow you to make a call without a problem in rural regions. AT&T also had more areas with no service than Verizon did. Having said that, the test shows that Verizon's 2G CDMA2000 1x service, which you might have if 3G is unavailable, appeared to be slower than
EDGE
is on AT&T.
AT&T is fast and Verizon is everywhere. Where does that leave Sprint? Well, Sprint is the only one of the three carriers that offers an all you can eat program for iPhone 4S users. Yet, the service appears to be so poor that it might not be worthwhile. Is it something inherent within Sprint's network? During the test, an HTC EVO 4G was tested at the same time as the Apple iPhone 4S and the Android phone had faster speeds even just over 3G. Sprint needs to get the iPhone 4S to
work better on its network
. And there were times when the Sprint network was able to down/uplopad data but could not get Siri, maps or email to load properly.
Remember too, other things can have an affect on network speed such as the number of smartphone totin' folks saturating an area. While conducting a test at the Hollywood Bowl (the music and arts venue, not the bowling alley), the Apple iPhone 4S was humming along with download speeds for data of 2.0 Mbps to 3.9 Mbps. Once the crowd entered and the place was full of smartphone packing people, those speeds dropped to .18 to .27 Mbps. At the same time, Verizon's speed went from 1.1Mbps to .15Mbps when the crowd was seated. Sprint's scores dropped from .66 to .73Mbps to
a catatonic state of .022Mbps
.
So which carrier should you use in the States for your Apple iPhone 4S? It would seem that it would be a choice between AT&T and Verizon. If raw speed is what you want, AT&T might be the way to go. If having enough bars to get things done anytime and anywhere is of utmost importance to you, Verizon might be the way to go.
source:
AppleInsider