Which Samsung Galaxy Note 4 color do you like best: black, white, pink, or gold?
46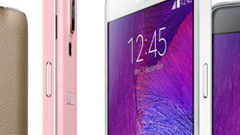 Samsung last week announced the
Galaxy Note 4
, its newest high-end, extra-large handset that comes to succeed the popular Note 3, Note II and original Note. Like the previous models, the Note 4 will be available in several color versions - Samsung is calling them "Charcoal Black," "Frost White," "Blossom Pink", and "Bronze Gold."
If you're looking forward to buying the Galaxy Note 4, you've probably already decided which color you like best. We're curious to see if the classic colors (black and white) are more appreciated than the fancy ones (gold and pink), that's why we're asking you to pick your favorite Note 4 variant in the poll below.
Unfortunately, the Note 4 won't be released
before October 10
, so there's still a full month ahead before most of us will be able to buy it. The good news is that, just like the Note 3, the new Galaxy Note will be widely available around the world. In the US,
all four major carriers will have it
, most likely for prices starting at $299 on contract.
To find out more about Samsung's latest and greatest phablet, check out
our Galaxy Note 4 hands-on
, our
Note 4 in-depth video overview
, our
quick comparison with the Note 3
, and a detailed look at
all the specs that the Note 4 comes with
.