Samsung Galaxy Note 4 specs review
37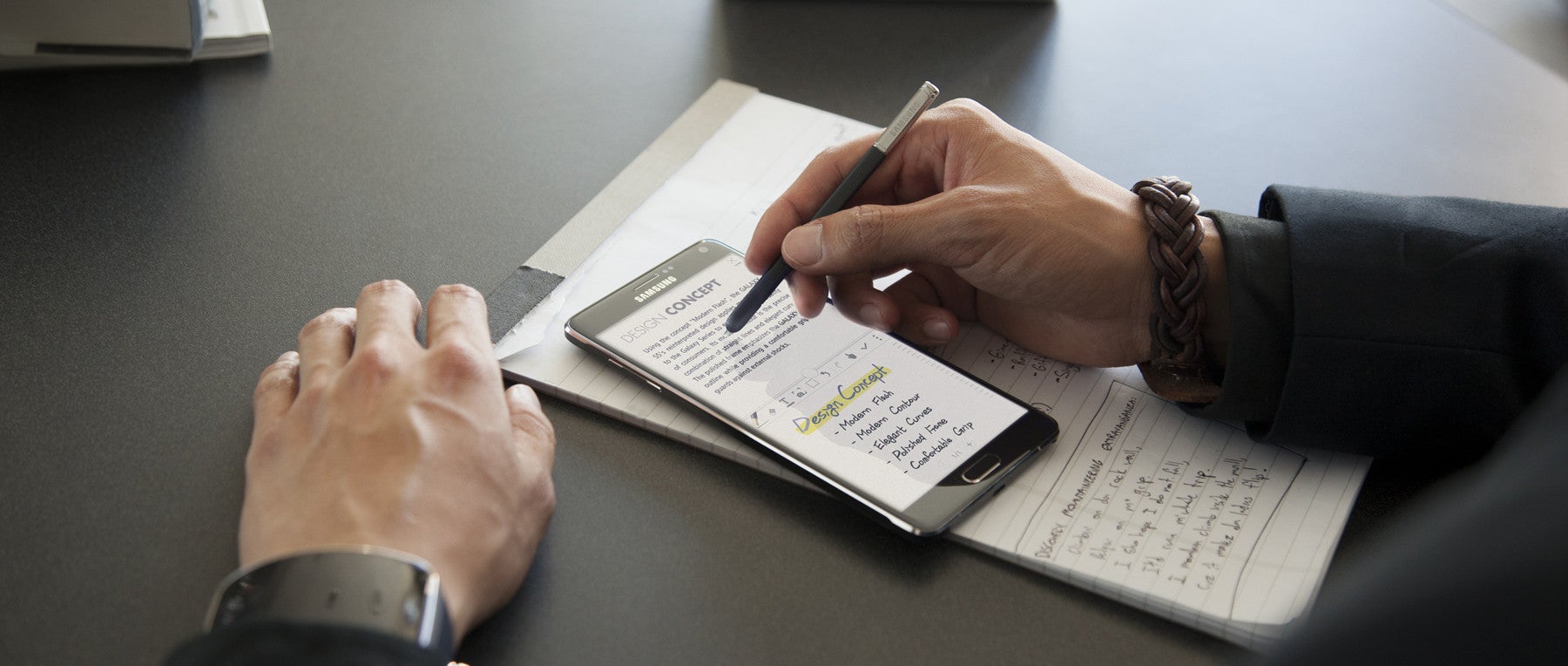 By now most of you will know that Samsung has, right on schedule, announced its new addition to its highly-successful Note line.
The Galaxy Note 4 is every bit the high-end, premium device you'd expect it to be, and improves on the Note 3 formula across the board with a better design, a more detailed screen, a camera with, finally, OIS, and just faster hardware overall. But what changed exactly, and is the upgrade notable? Let's take a look.
Design

Samsung is shaking things up. As the case is with the recently-announced Galaxy Alpha, the Samsung Galaxy Note 4 uses actual metal elements in its construction. In particular, the handset sports a metal frame (with small wedges at the corners to help with impact resistance), which improves its rigidity and gives it a nice, solid feel. The removable back cover of the Note 4, however, is still made of faux-leather plastic sans the stitches, but we prefer it over what the Note 3 had going on. Sure, an all-metal construction would have been fancier, but let us not forget that plastics have a lesser impact on signal reception than metals.
As for color options, the Note 4 will come in hues including Charcoal Black, Frost White, Bronze Gold, and Blossom Pink.
Size-wise, the Samsung Galaxy Note 4 is a relatively large handset but that's pretty much a given with any phone belonging to the Note lineup. The exact dimensions of the handset sit at 6.04 x 3.09 x 0.33 inches / 153.5 x 78.6 x 8.5 mm, and it weighs 6.21 oz. / 172 g. This makes the Note 4 slightly taller and chubbier than the the Note 3, but also less wide. Unfortunately, while most companies are, as of late, pushing the envelope in terms of producing devices that have extremely skinny bezels, the Note 4 is actually a tiny bit less efficient at that than the Note 3, with an approximate screen-to-size ratio of just under 75%. And the extra chubbiness? We likely have the fingerprint scanner to thank for that. Speaking of which...
Heart rate monitor and fingerprint scanner
Earlier this year, the Samsung Galaxy S5 became the first phone with a built-in heart rate monitor, and the Samsung Galaxy Note 4 is following in its footsteps. Turn the latter around and you'll see the sensor right next to its camera module. But while we don't mind having one, we don't find much practical use for it either. You see, Samsung's heart rate monitor isn't as precise as a professional instrument would be, and it is not very convenient to use while exercising as the user has to stand very still while measuring their pulse. If you're looking for something to help you with your workout, the heart rate monitor is not it.

Looking at the front, embedded within the physical home button of the Samsung Galaxy Note 4 is a fingerprint scanner. On one hand, it is a handy security feature preventing unauthorized access to your phone and personal stuff. It can also be used with third-party apps, such as PayPal, and services like LastPass. On the other hand, however, the scanner is of the swipe variety – you have to swipe your finger down so that the scanner could read it, and that's hard to do. Not to mention that, even then, you have to deal with its inaccuracies. Of course, having any kind of a fingerprint sensor is better than not having one at all. Furthermore, Samsung
did
make it clear during its presentation that the sensor has seen improvements, though what those translate to both in specifics and in practice, we'll have to wait and see for ourselves.
Display and the S-Pen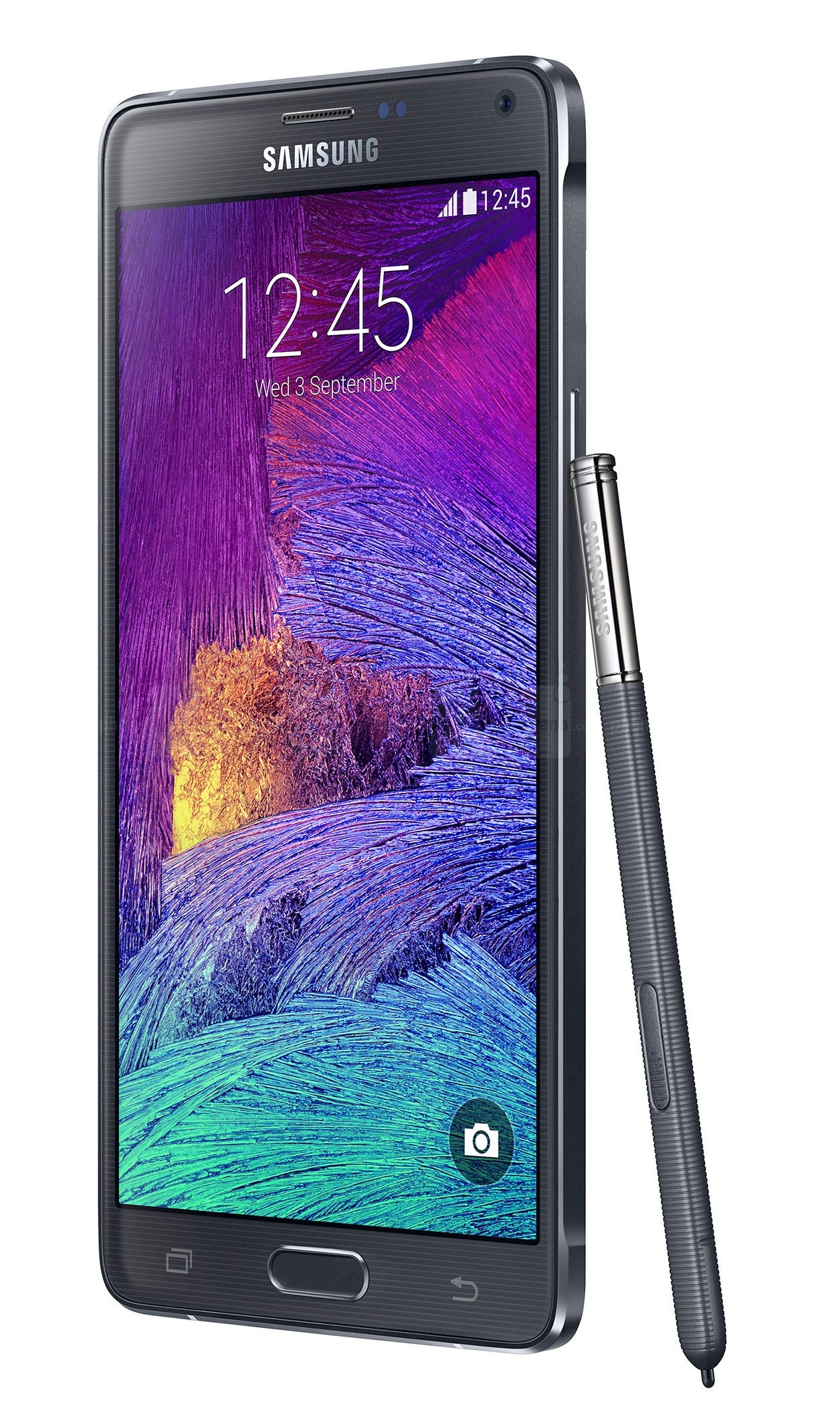 One of the Note 4's top stand-out features is its Super AMOLED display. As predicted, its diagonal size has been left at 5.7 inches, but its resolution has been given a bump to QHD territory (1440 by 2560 pixels). This produces an awe-inspiring pixel density of 515 pixels per inch – a figure that few other handsets can beat. Of course, having so many pixels to work with has its advantages, the most obvious being the excellent image details being reproduced. But on the downside, the higher screen resolution will take a toll on the phone's performance. Still, we're confident that the Snapdragon 805 SoC would be able to handle all those pixels well, be it while navigating the user interface or playing the latest 3D games.
But pixel count is just half the story. Super AMOLED screens, such as the Note 4's, have been traditionally off the mark when it comes to color accuracy, though it's important to note that Samsung has made some great advancements in that specific area. From what we've seen with the Galaxy Tab S 8.4, the company is getting real close to essentially killing off the one major leftover concern we have for AMOLEDs, and that's definitely exciting. Of course, we'll need to put the Note 4's screen to the test before we know for sure.
Last, but not least, the display on the new Note flagship has been made even better for use with the phablet's proprietary S-Pen, as it's now more sensitive than ever. According to Samsung, the writing experience is now also more like writing with a normal pen, as the company has increased the pressure you need to exert in order to write on the screen so that it is more in line with a real pen. In fact, you can now even use the S-Pen kind of alike to your computer mouse - click and drag will allow you to select multiple photos in your gallery for example, just like it would work if you're trying to select multiple icons on your desktop.
Processor and memory
The Samsung Galaxy Note 4 will come in two different flavors - a variant powered by a Snapdragon 805 SoC will be sold in some markets, while the rest of the world will (likely) get a model with an Exynos 5433 SoC. Either way, owning a Note 4 would mean that you're holding onto one of the most powerful Android smartphones around. The Snapdragon 805 version, in particular, would have a quad-core Krait 450 CPU with a maximum clock speed of 2.7GHz and an Adreno 420 GPU, while the other version will make use of an octa-core setup with four power-efficient 1.3GHz cores and four powerful 1.9GHz ones that work in a big.LITTLE configuration. This means that the chipset intelligently makes use of either of the two clusters in order to deliver better power efficiency, but it can still mobilize them all for maximum performance.
Going back to the Snapdragon 805, Qualcomm promises that the Adreno 420 GPU will deliver console-grade, high-definition graphics, by allowing for hardware tessellation among other improvements. That is, of course, if and when developers optimize their titles for it. Last but not least, the chip supports Cat 6 LTE speeds of up 300 Mbps - that's more than your carrier can route your way.

As for memory, there are of 3GB of RAM on board, so the Samsung Galaxy Note 4 should handle multitasking with ease, even when you're working with multiple applications at the same time. And with at least 32GB of storage, expandable with microSD cards, you'll rarely have to worry about running out of space for your files.
Camera
Samsung's Galaxy Note smartphones have always been great at taking photos, and the Note 4 isn't likely to be an exception. It has been equipped with a 16MP camera, coupled with an optical image stabilization gizmo for steadier, blur-free photos and videos. In fact, Samsung is calling its implementation Smart OIS, as it will apparently bring together the efforts of both the OIS module
and
the built-in Digital Image Stabilization software. The logic behind that, Samsung says, is to reduce the time needed for images and videos to be rendered, as all the compensating calculations require time.
Going back to the camera itself, from what we know we're dealing with a 1/2.6'' CMOS sensor with f/2.0 lens. At the front, we've got a very generous (for a major brand, that is) camera with a very wide, f/1.9 aperture. On the software side, Samsung has implemented several new extras, including the ability to take selfies easily by just covering the heart rate monitor and then removing your finger to snap, along with a new selfie panorama feature.
Obviously, it's way too early to talk about image quality, but let's just say that our initial impressions are very favorable.
Battery life
Samsung has fitted a removable, 3220 mAh battery inside the Galaxy Note 4, which is actually a very tiny improvement over the Galaxy Note 3's 3200 mAh unit. That will obviously worry some, as while the Note 3 had great battery life for its time, it is no longer at the top of the food chain. What's more, the Note 3 only had a resolution of 1080 x 1920 pixels (FHD), while the Note 4 kicks things into a much higher gear with its QHD resolution. As many of you will know, the more pixels the processor has to push (even a processor like the Snapdragon 805), the more effort is required on its part, and, thus, more power. Samsung, however, disagrees that this will lead to worse battery life for its newest addition to the Note line.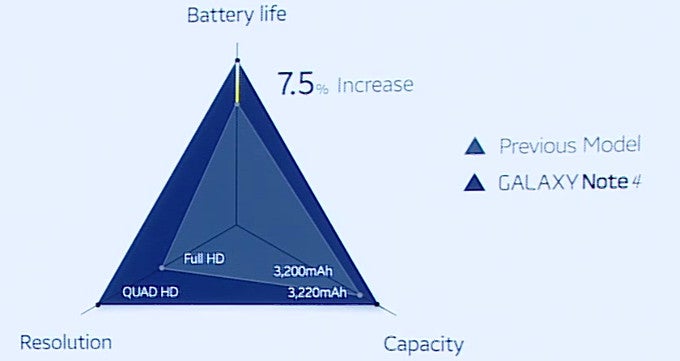 According to the company, despite the miniscule, 20 mAh bump in size, the battery on the Note 4 will actually provide a 7.5% improvement in up time, thanks to component efficiency improvements. A little over 7% isn't a big spike, though, and we're fairly sure the Note 4 won't break any records, but it is at least reassuring to know that it is about as good as the Note 3. Thankfully, the Note 4 will support fast charging - Samsung claims just 30 minutes will get you from 0% to 50%, which is very welcome news.
Lastly, for those of you wondering, Samsung
is
bringing the beloved Ultra Power Saving Mode to the Note 4, so you'll be able to get out of a tight spot with it.
Conclusion and expectations
Specs-wise, the Samsung Galaxy Note 4 is a pretty amazing device, and it is essentially unrivaled right now. Of course, that is how the industry works -- whoever has the newest product, also has access to the latest hardware. So, yes, the specs sheet on the Note 4 is an impressive read, and we're sure few would disagree. Unfortunately, there's nothing really groundbreaking here, at least if you're looking for something apart of the typical yearly hardware bump. For that, we've got the Galaxy Note Edge.