Which LG Nexus 4 feature do you like the most?
38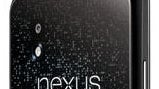 Unless you live in the wilderness in search of spiritual purification, you probably know that Google announced some pretty exciting stuff yesterday, even though hurricane Sandy prevented the company's official media event from taking place. We are talking about the latest additions to the Nexus lineup, namely the
LG Nexus 4
, also known as one of the worst kept Android secrets in recent history, the
Google Nexus 10
tablet manufactured by Samsung, and the
Google Nexus 7
tablet with support for HSPA+ connectivity.
Today's poll, however, is all about the LG Nexus 4
– arguably the most exciting device in the bunch. Why is that? Well, let's just say that it is one of those smartphones that have so much to like about them that we don't know what to begin with. It is a blend of great software and capable hardware delivered at a very competitive, almost unbelievable price.
But which of the LG Nexus 4 stand-out features do you, dear readers, like the most? Is it that beastly, quad-core Snapdragon S4 Pro processor it has been equipped with? Or are you excited about the software it comes with – Android 4.2 Jelly Bean, with all the new improvements that it brings? Or is it something else? Do not hesitate to cast your vote in our poll below, and if you feel like it, join the discussion in the comments!