Which $1,000 phone would you rather buy? (poll results)
99+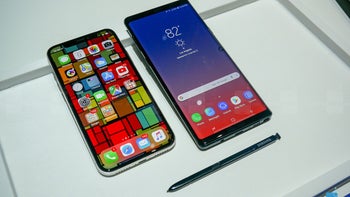 Apple's
iPhone X
(released in November 2017) seems to have inaugurated a new era - one of mass-produced smartphones priced at around $1,000 or more. In the US, we now have three flagship handsets from well-known companies that cost $999 or $999.99 (not literally one thousand dollars, but pretty much the same thing). We're talking here about smartphones that are officially sold Stateside and aren't special editions of otherwise normally-priced devices (like the
Huawei Mate 10 Porsche Design
is).
Besides the iPhone X, the
$1,000 US smartphone club
includes the
Samsung Galaxy Note 9
and the
Sony Xperia XZ2 Premium
. Of course, it needs to be mentioned that, while the iPhone X and Galaxy Note 9 are offered both unlocked and via all relevant carriers, the Xperia XZ2 Premium comes only unlocked, being compatible only with GSM/LTE carriers like T-Mobile and AT&T.
Our question to you now is: which of these $1,000 smartphones would you rather get (assuming you haven't bought one already)? Our poll below also includes an "Other" option, just in case a different handset priced at $1,000 has caught your attention. Also below, you'll find reviews of the iPhone X, Galaxy Note 9, and Xperia XZ2 Premium.
Update
: Poll results are in. The Samsung Galaxy Note 9 alone received 58.05% of all votes, followed by the Apple iPhone X with 26.54%. Sony's Xperia XZ2 Premium is way less popular - at least among our readers - having received just 6.23% of all votes. Surprised?