Where to buy or order the Galaxy Note 7: best deals and prices
12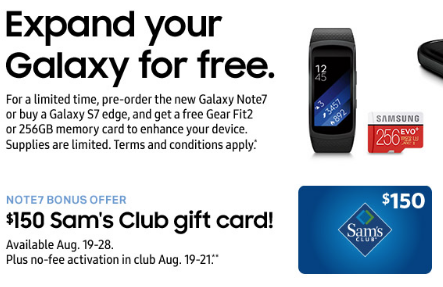 With the
Galaxy Note 7
, Samsung is treading uncharted waters, as it's only issuing a major phone in one of its flagship lines with a curved display version. Granted, the company managed to pull this off beautifully when it comes to design and specs, not to mention that the Note line is somewhat of a niche one, S Pen stylus and all, but still the trend is pretty telling.
The thing that can actually make or break the Galaxy Note 7 might not be the Dual edge display characteristics that leave nothing to flat screen phone fans - after all this is the Samsung phone with flexible display that has the
steepest curve angle
, so it doesn't take that much valuable screen estate away. It's the price that users have to pay to obtain all that gorgeousness in a phone format - at about $850 retail, the Note 7 is not for everyone, even though it starts you off with 64 GB of internal storage, unlikely previous versions that shipped with 32 GB.
Thankfully, Samsung throws in some significant freebies in the form a Gear Fit2 or a 256 GB memory card for early buyers, and carrier or third-party retailers also chip in, so the pricing is made more palatable. Sam's Club $150 gift card, and AT&T's extras seem particularly enticing, as they are in addition to Samsung's Fit2 or memory card promo. Here's what everyone offers as an extra to buying the Note 7, so you can make an informed opinion where to preorder or snatch it from when the August 19th release date nears.

| | | | | | | |
| --- | --- | --- | --- | --- | --- | --- |
| | Retail price | 2-year contract | 24 payments | 30 payments | Bonuses | Extras |
| Verizon | $849.99 | $349.99 | $36 | _ | Free Gear Fit2 or 256 GB card | _ |
| AT&T | $879.99 | _ | $36.67 | $29.34 | Free Gear Fit2 or 256 GB card | Free Gear S2 or Galaxy Tab E for $0.99 on 2-year, and BOGO offer for eligible Samsung Galaxies (up to $695 value) |
| T-Mobile | $849.99 | _ | $32.5 ($69.99 down) | _ | Free Gear Fit2 or 256 GB card or a year of Netflix | _ |
| Sprint | $849.99 | $349.99 | $35.42 | _ | Free Gear Fit2 or 256 GB card | _ |
| BestBuy | 849.99 ($879.99 for AT&T) | _ | _ | _ | Free Gear Fit2 or 256 GB card | Buyers get Samsung's deal – the free Gear Fit 2 or free 256GB memory card – in their hands the same day at the store. |
| Sam's Club | $849.99 | _ | _ | _ | Free Gear Fit2 or 256 GB card | $150 Sam's Club gift card |