When will the MWC gear arrive? Galaxy S5, Xperia Z2, LG G Pro 2, Z2 Tablet and others release date
7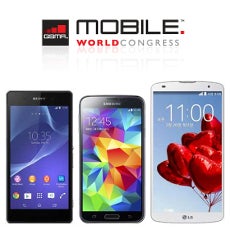 The MWC show is over, and it's time for recaps and roundups of what happened, who announced what, and, most importantly, when are we going to get it. Most manufacturers are getting much better in the recent years with releasing phones and tablets shortly after the announcement, trying to beat Apple at its own two-week gap game.
Still, there are some that are dragging their feet, or moving their announcements forward for political reasons, so let's recap the release dates of the most important gear that was unveiled at the MWC 2014 expo.
Samsung
Galaxy S5 - usually Samsung launches its flagship 2-3 weeks after the announcement, but this year the event was obviously pulled forward, so the actual release date is pegged for

April 11th

, as Samsung mentioned during the presentation, in more than 150 countries worldwide.
Sony
Xperia Z2 and Xperia Z2 Tablet - Sony is obviously introducing a six-month, instead of a yearly, upgrade cycle for its flagship, and is not even going to make you wait for it, as the launch date of the Z2 line is pegged globally for

mid-March

.
Xperia M2 - Sony's new midranger is going to join the launch party in

March

as well.
LG
Huawei
MediaPad X1 - the world's lightest 7" tablet is scheduled for release in

March

, with preorders starting now.
MediaPad M1 - the other Huawei tablet will also launch in

March

, in Europe, Russia, the Middle East, China, Japan, Asia Pacific, Australia and Latin America.
Ascend G6 - Huawei's new phone is said to be released in Q1, while the 4G LTE version will be hitting shelves in the

second quarter

.
HTC
Desire 816 - the "flagship midranger" will be first made available in China in March, and a month later -- in

April

-- for the rest of the world.
Desire 610 - the other midranger by HTC will take a bit longer to appear, as it will start rolling out in

May

.
Nokia
Nokia X, X+ - the first Android phones from the company will be

available immediately

in Eastern Europe, Asia, South America, and in other growth markets, but it won't be shipping to the United States, or Western European countries.
Nokia XL - the larger Android phone rocks 5" display, rock bottom price, and will ship to stores in the

second quarter

of the year.
Lenovo
S860 - the handset with the 4000 mAh battery is set to cost the commendable $350, and will be ready to order in

Q2

.
S850 - the thin fashion model is set at just $269 off-contract, and is arriving in

June

.
S660 - the cheapest of the bunch is just $229, still sports a 3000 mAh battery, and will join the fray in

June

as well.