When it comes to geeky hobbies, wall-mounting and knolling your old phones takes the cake
11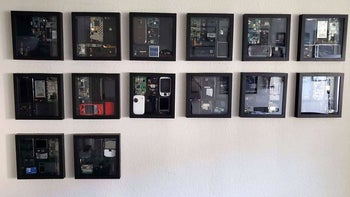 Hey, what are
you
doing with your discarded devices? Aside from recycling them, selling them, or giving them away to your closest of kin, most of you likely keep a handful of your old devices tucked away in a drawer somewhere.
Well, Reddit user
JediSamReye2013
is having none of this and has taken upon themselves to create art of the already obsolete technology. Proudly displayed on the walls in their house are a trove of disassembled and knolled out Android devices from the recent past that can easily pass as contemporary art. For one, it's a creative and ingenuous way of giving us a sneak peek inside hardware that was never meant to be so proudly displayed.
An additional level of aesthetics is provided by the eye-appealing knolling technique that has been used by
JediSamReye2013.
In case you're unfamiliar with the term, knolling is the technique of neatly arranging similar objects in 90-degree angles and patterns, which almost always proves to be especially satisfying and aesthetically-pleasing to the eye of the beholder.
Thumbs up for the idea and execution!