WhatsApp hits the streets with skits and songs in the fight against fake news in India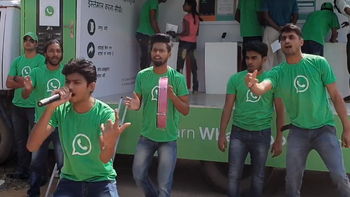 WhatsApp's struggles in India continue as it tries to inform the country's population about the dangers of misinformation spread through messaging apps. The company was told it could be held accountable for the consequences of the spread of fake news through the app, amounting to more than 30 deaths. In order to avoid sanctions, WhatsApp promised to make an effort to reduce the instances of self-delivered justice that come as a result of fake news spreading through its network.
After trying
newspaper ads
, limiting
sharing capabilities in-app
, and even forming a
dedicated team
, now WhatsApp is taking to the streets using mediums proven by the ages: theater and music. Using a WhatsApp branded truck, the modern-day troubadours are performing skits and songs about fake news. One of the scenes that the audience can witness shows the dire consequences that can be caused by you if you fall for a lie online and spread it through your phone.
When they're done with their performances, the participants talk to locals about fake news and explain to them how to avoid it and why not everything online should be trusted. They also hand out pamphlets to make sure their message is not quickly forgotten.
The noble endeavor is helped by one of India's mobile carriers, using the opportunity to promote its own devices that come with WhatsApp preinstalled. Thanks to cheap internet connected phones, India now has more than 460 million internet users, and more than 200 million of them use WhatsApp. For many that's the first time they can go online and experience the internet, which comes with some unexpected consequences, as we've seen.