WhatsApp by the numbers - the millions, billions, competitors, and "no ads!" of a hugely successful messenger
5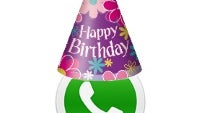 We almost missed it, but it appears WhatsApp celebrates its five-year birthday today! We didn't get any birthday cake (shame!), but the company sent us this awesome infographic. Made by Lisa Hallgren at digital agency DPFOC, it sings the tune of millions and billions of numbers related to the app's relatively short history.
WhatsApp fans can enjoy intriguing nuggets of information from it, while competitors should sit and learn. Did you know WhatsApp has 1 active developer per 14 million users? Or that it processes 50 million messages all over the glob daily? You will also love CEOs Jan Koum and Brian Acton's quotes -
"Dealing with ads is depressing!"
,
"We don't want to build a hookup app!"
, and more WhatsApp lore awaits. Enjoy the infographic.