What's new in Windows Mobile 6.5.3?
2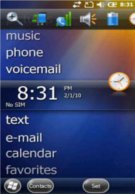 There may be many people out there that are lost in the bombardment of information regarding Microsoft's seemingly changing mobile platforms. It wasn't too long ago when Windows Mobile 6.5 burst onto the scene with a slightly revamped look – but now we're hearing the rumblings of things like
Zune phones
,
Windows Mobile 7
, and
Project Pink
. The steps needed to get to those items will first make its way through the next incarnation of Windows Mobile; that is version 6.5.3. It was first heard being seen on a handful of handsets
during CES
, but there may be some confusion surrounding concrete information about it. Windows Mobile 6.5.3 brings forth a new GUI and ease of use enhancements that include support for capacitive touchscreens, enable multi-touch, touch controls throughout the system so that the stylus is not required, consistent navigation, horizontal scroll bar replaced with tabs, magnifier allows touch support to legacy applications, simplified out-of-box experience with fewer steps, and drag & drop icons on the Start menu. When you look past the user end experience and look what's happening behind the scenes, it'll also include browser performance for decreased page load times, improved memory management, smooth pan & flick gestures, and speed improvements on zoom & rotation speed. From its humble beginnings Windows Mobile has been evolving since its inception, however, this latest jump to 6.5.3 follows the same path as previous upgrades to the mobile platform.
source:
The unwired