What's it costing manufacturers to build their high-end phones - interactive chart
10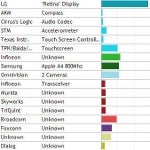 We've been graced with numerous teardowns of the most expensive smartphones on the market, courtesy of iSuppli, whose specialty is to take a gadget apart, and ballpark its cost to manufacture. Of course, this doesn't account for additional expenses like R&D, assembly/shipping, or marketing, but it is fascinating to explore how much the bits that get orchestrated into an engineering symphony cost.
Below is an interactive chart showing the prices of components that go into an
iPhone 4
,
Google Nexus One
,
Nokia N8
, and a
BlackBerry Torch
. They all retail between $500-$600, but are in the realms of a third of that to produce, in terms of parts. No wonder RIM is the second most profitable company in the cell phone business after Apple. Their phones cost less to produce than the competition, yet sell for comparable retail prices.
Be patient - the embedded chart takes about ten seconds to load, but it is worth the wait.
via
DailyMobile